Designed for individual advisors, teams, and firms.
OIO Services:
A stoxdox – 360 membership for 4 (Advisor) to 12 (Enterprise) people:
A professional portfolio manager, analyst, and advisor with 26 years of experience.
The highest quality, unbiased, professional analysis delivered in an actionable format.
A full-spectrum, full-cycle, and global perspective.
Regular market outlook reports as conditions change.
Timely research and insight into individual stocks, sectors, and asset classes.
Individual stock reports and associated ratings.
Portfolio Tool: our research database updated and delivered to you weekly.
Full access to our research library.
dox it!: submit research requests.
Outsourced Information Officer:
Consultations tailored to your needs. Participation in meetings and/or the Investment Committee.

Quarterly consultations
Custom plans and roles are available

You may publish our role in your materials and on your media properties.
Professional use of stoxdox content (some limitations apply).

Strengthen your competitive positioning while retaining maximum cost optionality.
Access timely, professional, and insightful analysis to elevate your client and prospect communications strategy.
The 2021 Fidelity RIA Benchmarking Study ranked content marketing as a top choice for client growth and retention amongst leading RIA firms.
Become a stoxdox – OIO member today or contact us for more information.
Top Priority: Advisors & Firms
The recent Charles Schwab 2022 RIA Benchmarking Study found that recruiting staff to increase skill set and capacity is the top priority for RIA firms. The image below summarizes the survey results. In the vast majority of historical RIA surveys, acquiring new clients was the primary concern. This is a notable shift for the industry.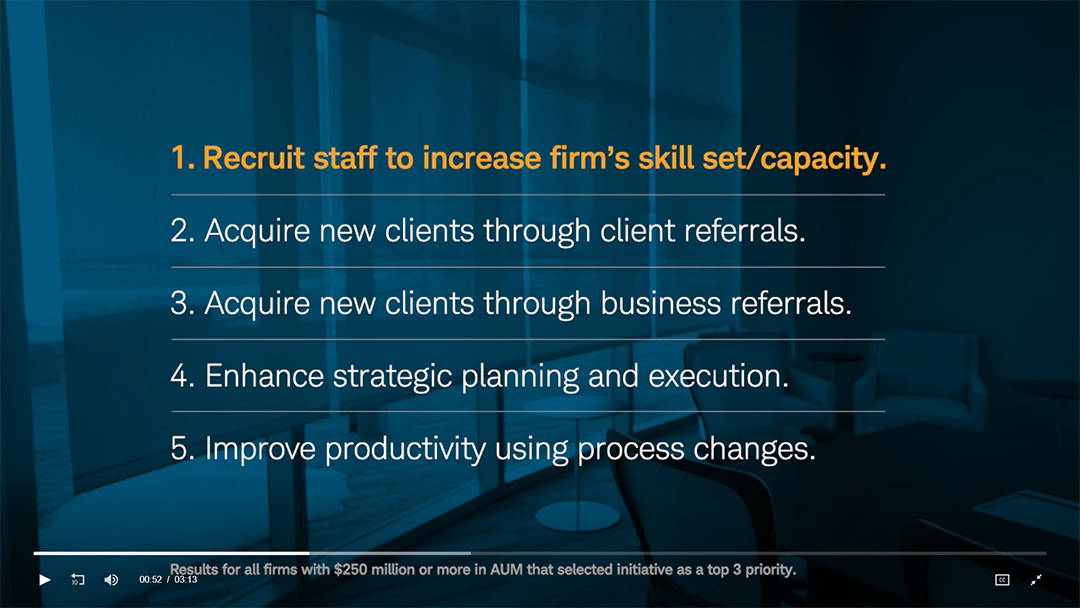 Outsourcing: Retain & Grow
The following slide from the 2021 Fidelity RIA Benchmarking Study evidences outsourcing as an increasingly important strategic focus for top RIAs. Outsourcing immediately elevates your capacity while retaining maximum cost optionality. There are indications that outsourcing has the added benefit of producing enhanced growth potential.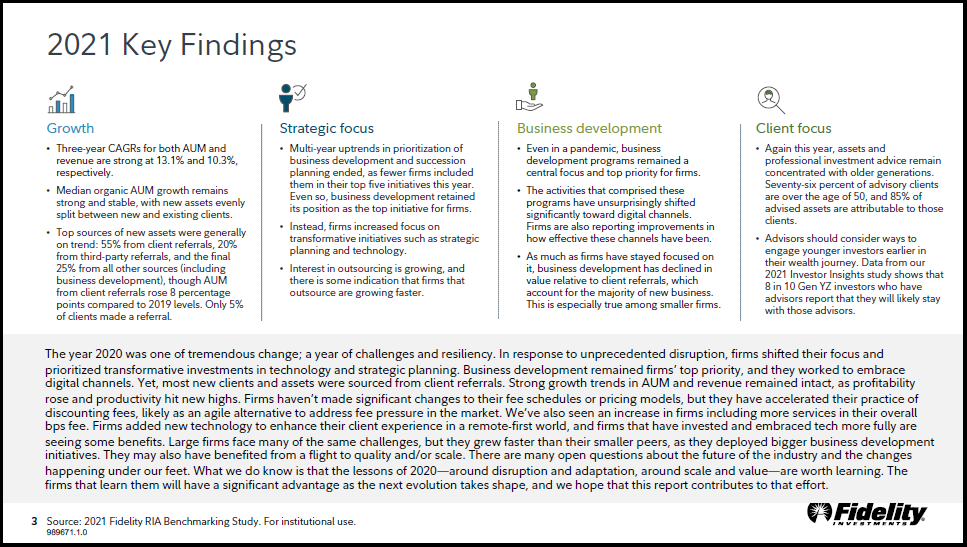 Outsourcing is a cost-effective way to achieve competitive differentiation in the marketplace.
Time: The Most Valuable Resource
In terms of enhancing your growth prospects, outsourcing alleviates the number one resource constraint facing advisors, time. The time constraint is on display in the following image from the Raymond James 2021 RIA Benchmarking Survey. Cultivating relationships is the top priority and also the most time demanding.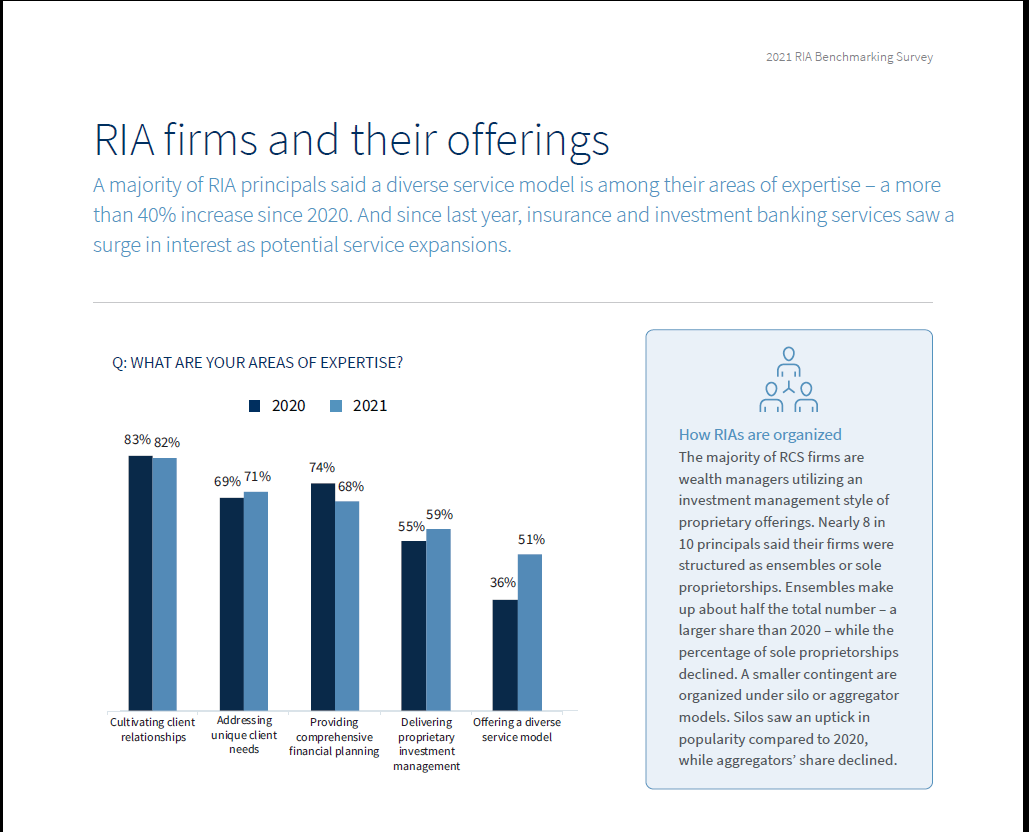 Outsourcing information gathering, analysis, and delivery is an ideal solution for expanding your capacity while retaining maximum expense optionality.
Retain & Grow: Content Marketing
Advisors and asset managers can leverage stoxdox to grow in the marketplace. For example, small business owners and corporate executives are the largest target market, as can be seen in the following slide from the Raymond James 2021 RIA Benchmarking Survey.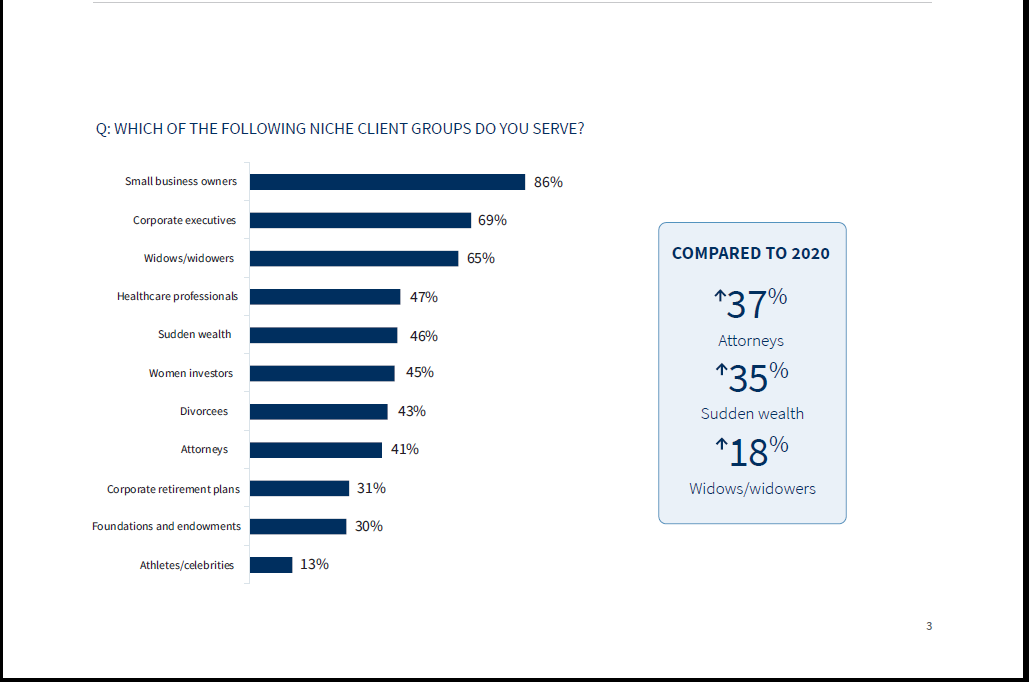 Communicating with clients and prospects through thought pieces and expert analysis has become the strategy of choice for competitive differentiation. The following image from the Fidelity survey illustrates the growing use of content marketing for client retention and acquisition.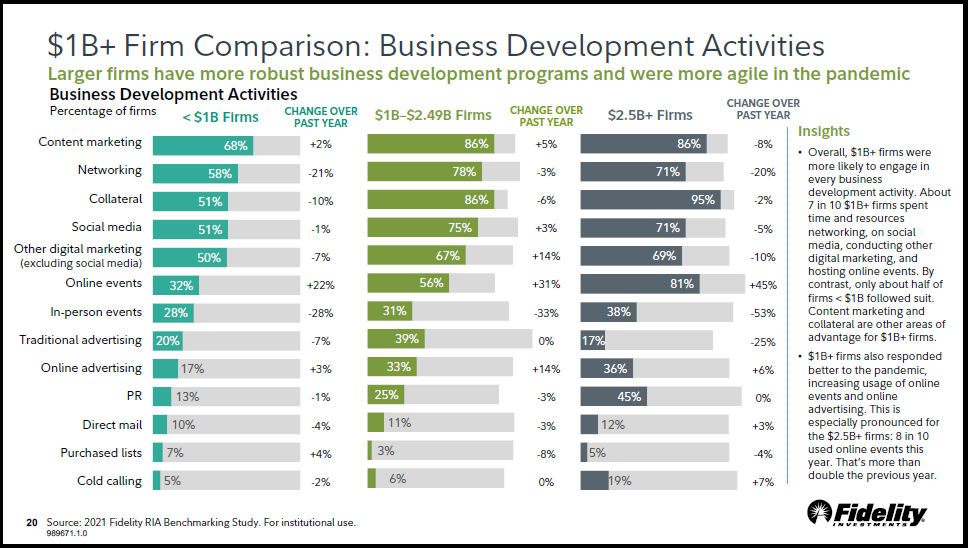 You may republish our research within your thought pieces and digital properties, thereby powering a recurring client retention and acquisition strategy.
Become a stoxdox – OIO member today or contact us for more information.