Designed for advisors and firms.
What you receive:
Full access to stoxdox – 360 member services:
A professional portfolio manager, analyst, and advisor with 26 years of experience.
Up to 12 stoxdox – 360 members.
The highest quality, unbiased, professional analysis delivered in an actionable format.
Timely research and insight into individual stocks, sectors, and asset classes.
Regular market outlook reports as conditions change.

Filter the noise: broad market review and outlook
Did you know?: opportunities and insight
Sector watch: sector outlook
Stocks to watch: key stock summaries delivering market insight

Individual stock reports and associated ratings.
Portfolio Tool: our research database updated in real-time.
Full access to our research library.
dox it!: submit research requests.
A full-spectrum, full-cycle, and global perspective.
Outsourced Information Officer:
Consultations tailored to your needs. Participation in meetings and/or the Investment Committee.

Quarterly consultations
Custom plans and roles are available

You may publish our role in your materials and on your website.
Professional use of stoxdox content with attribution (some limitations apply).

Strengthen your competitive positioning while retaining maximum cost optionality.
Access timely, professional, and insightful analysis to elevate your client and prospect communications strategy.
The 2021 Fidelity RIA Benchmarking Study ranked content marketing as a top choice for client growth and retention amongst leading RIA firms.
Outreach is especially important during recessionary periods as client retention is a top priority while growth opportunities expand rapidly.
Top Priority: Advisors & Firms
The recent Charles Schwab 2022 RIA Benchmarking Study found that recruiting staff to increase skill set and capacity is the top priority for RIA firms. The image below summarizes the survey results. In the vast majority of historical RIA surveys, acquiring new clients was the primary concern. This is a notable shift for the industry following one of the longest bull markets ever.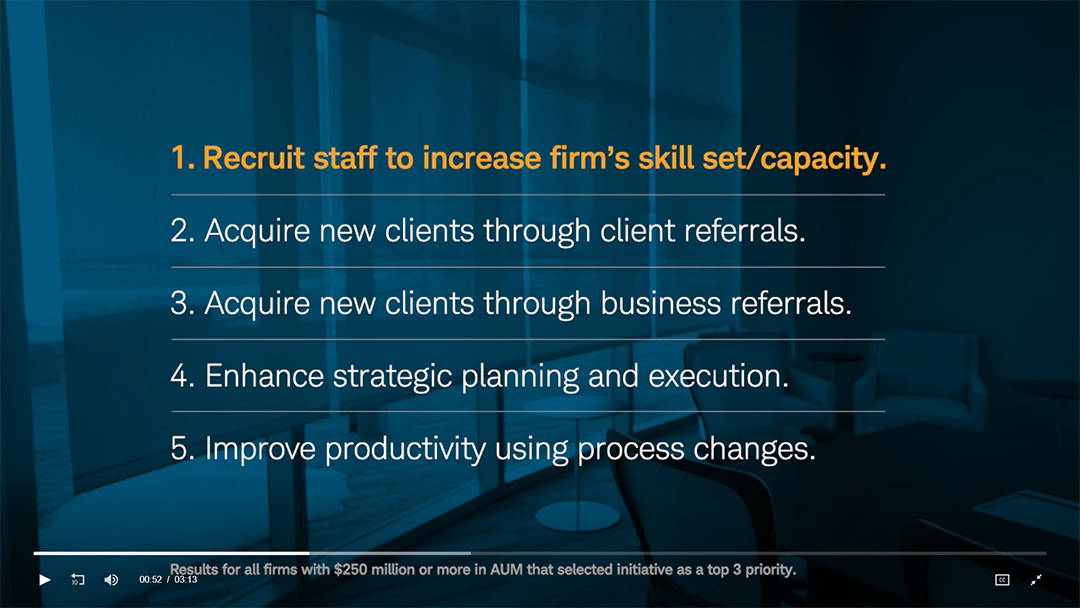 During recessions and bear markets, protecting and retaining clients is paramount. Such periods also present the greatest opportunities for growth as investors become broadly dissatisfied. It is a rare moment during each cycle in which investors are open to exploring change and new relationships.
Based on the results of the Schwab survey, top RIAs recognize this phase transition and have placed the acquisition of skill and capacity at the top of their priority list. It is a time of maximum risk and opportunity. Filtering the noise has never been more important.
Outsourcing: Retain & Grow
The following slide from the 2021 Fidelity RIA Benchmarking Study evidences outsourcing as an increasingly important strategic focus for top RIAs. Outsourcing immediately elevates your skill set and capacity while retaining maximum cost optionality. There are indications that outsourcing has the added benefit of producing enhanced growth potential.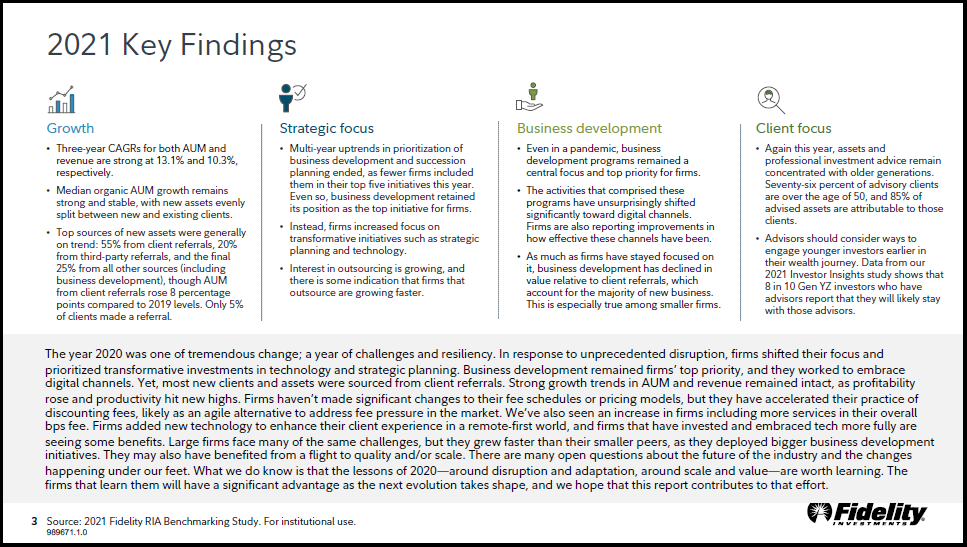 The one area that has largely not been outsourced by advisors and firms is investment management, as can be seen in the following slide from the Fidelity survey presentation.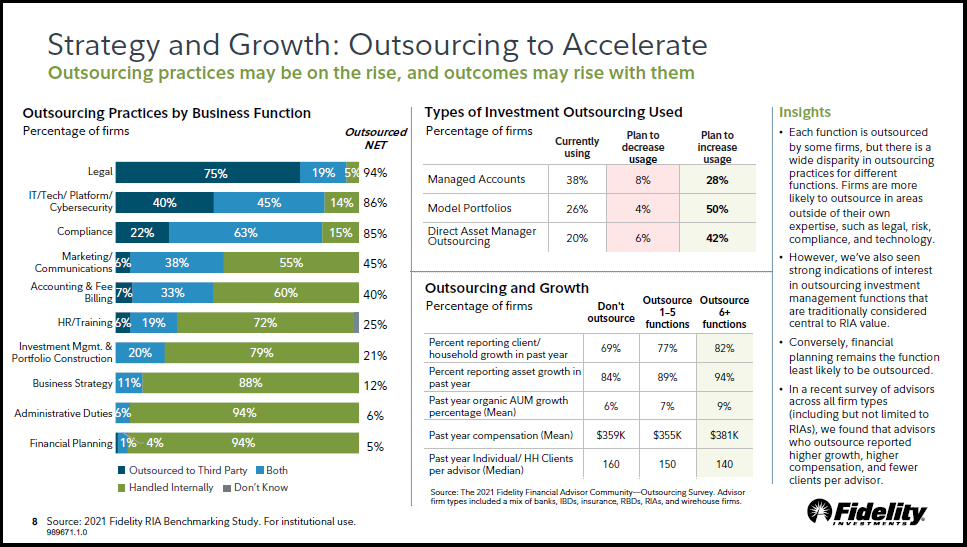 For advisors and firms, outsourcing investment management runs the risk of commoditization. Conversely, outsourcing research and professional services reduces the number of high-cost employees required to compete and immediately elevates your capacity to deliver customized solutions. Outsourcing is a cost-effective way to achieve competitive differentiation in the marketplace.
Time: The Most Valuable Resource
Advisors are among the most time constrained professionals. The time constraint is on display in the following image from the Raymond James 2021 RIA Benchmarking Survey. It identifies cultivating relationships as the critical skillset for success. This is also the most demanding of an advisor's time.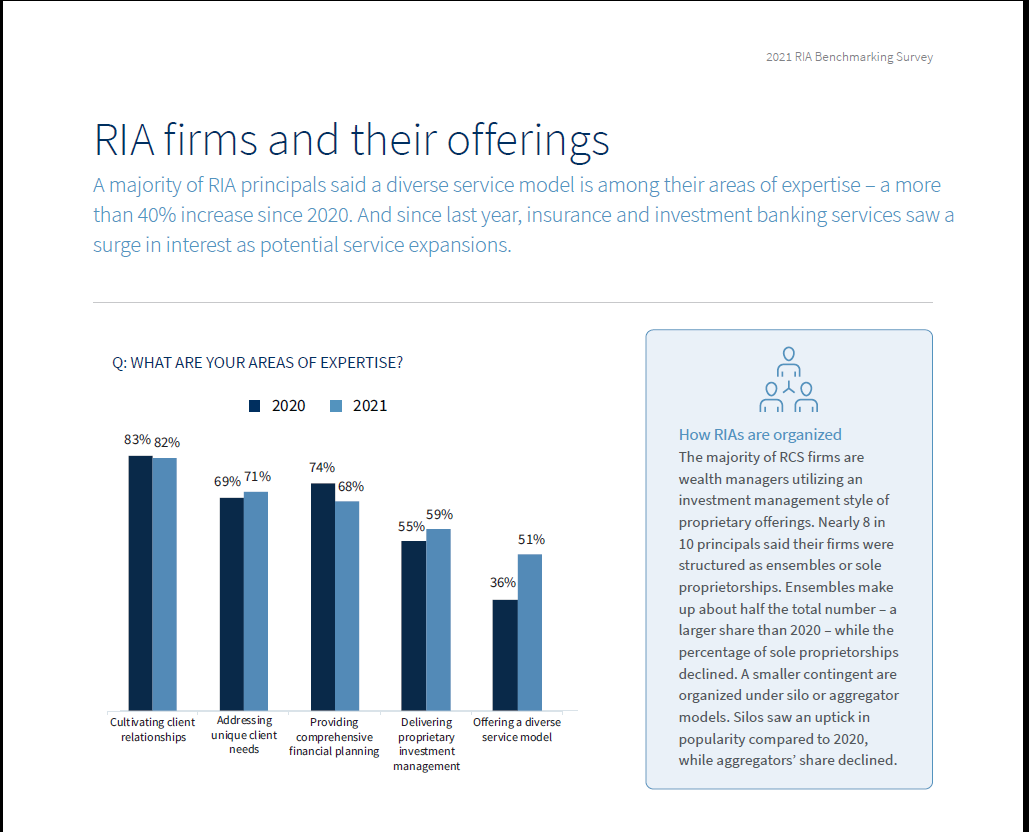 Information gathering and analysis are a prerequisite for successfully cultivating client relationships through time. Advisors must go through this information gathering and analysis process continually across many dimensions.
First, they must understand each client's situation through a continual communication and information gathering and analysis process. This process is required in order to provide suitable advice and is immensely time consuming. Second, advisors must understand the state of the capital markets at all times in order to deliver suitable solutions to their clients. The time required to accomplish this task is extraordinary.
After attending to client relationships, most advisors have little time remaining, let alone enough to conduct the required investment research. From the perspective of time, the capacity simply doesn't exist. Outsourcing information gathering, analysis, and delivery is an ideal solution for expanding your skillset and capacity while retaining maximum expense optionality. Our services free up the one true resource that advisors have, time.
Retain & Grow: Content Marketing
The information stoxdox delivers not only frees up your time, it protects your time. Investment professionals are bombarded 24/7 with a firehose of financial information that drowns out the signals they require. Filtering the noise is a powerful force for cultivating relationships and creating growth opportunities.
Our information can be leveraged by advisors to grow in the marketplace. For example, small business owners and corporate executives are the largest target market for advisors, as can be seen in the following slide from the Raymond James 2021 RIA Benchmarking Survey.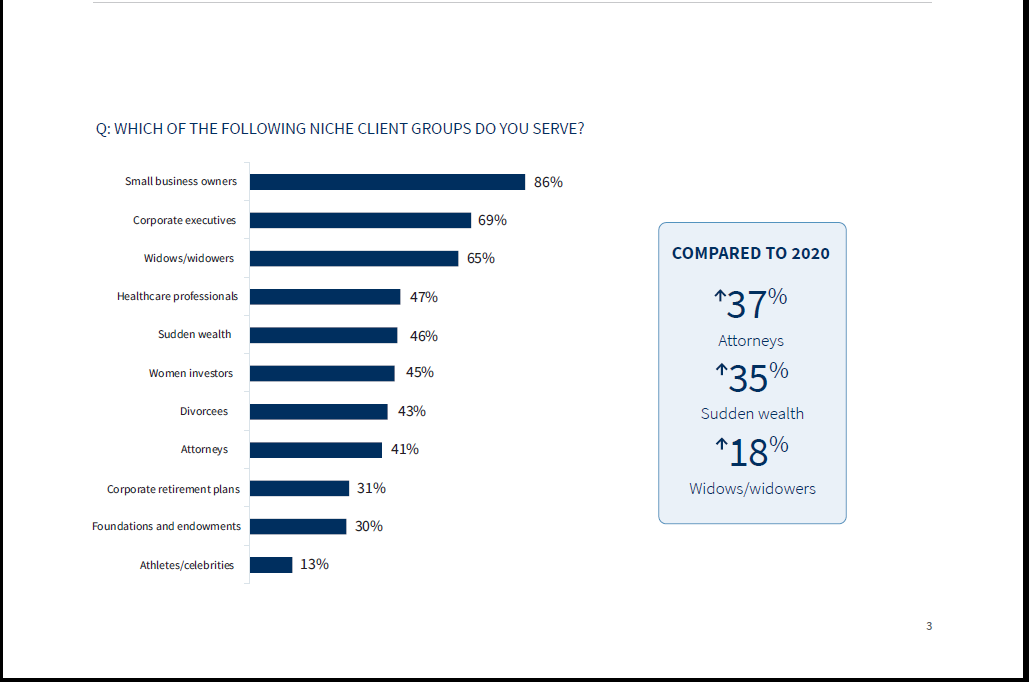 Our market outlook reports provide insight and perspective. You may use our content to communicate with clients and prospects, keeping them informed and you one step ahead of the competition. Offer them a full-spectrum, full-cycle, and global perspective.
The largest RIA firms are prioritizing content marketing strategies. Communicating to clients and prospects with thought pieces and expert analysis has become the strategy of choice for competitive differentiation. The following image from the Fidelity survey illustrates the growing use of content marketing for client retention and acquisition.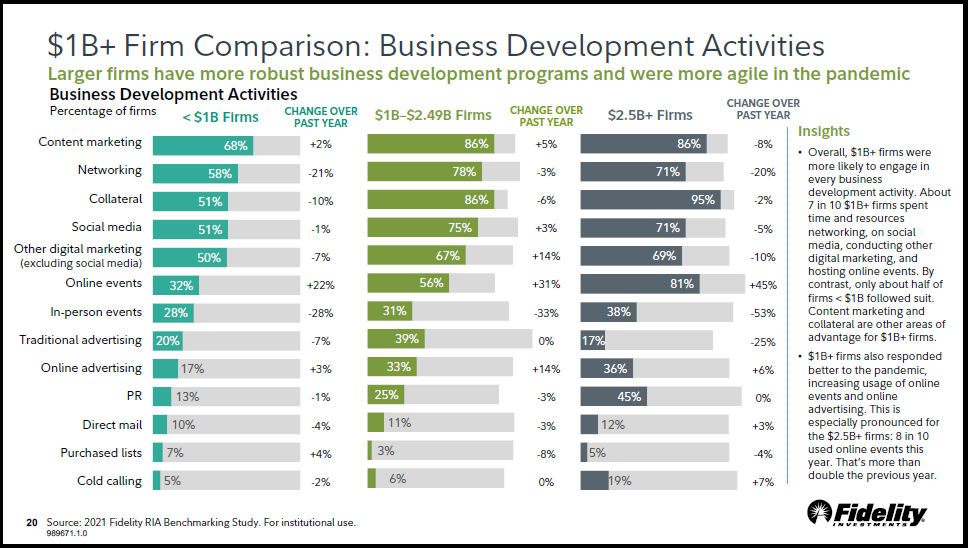 The content marketing channel is another stoxdox OIO member benefit. You may republish portions of our research within your content pieces with proper source attribution. Our content can be used to compliment your thought pieces and add power to your content strategy. Content marketing is a powerful customer retention strategy, especially during uncertain times.
Decision Support: The Science
Science supports the value proposition of employing an outsourced, independent, professional, and objective observer. Daniel Kahneman is the preeminent expert in the field of decision making and the winner of the Nobel Prize in Economic Sciences. In his book, "Thinking, Fast and Slow," he explores the essence of decision making and illuminates two primary modes of thought. He refers to these two modes as System 1 and System 2 thinking:
System 1 operates automatically and quickly with little or no effort.
System 2 allocates attention to mental activities that require time and effort.
Each mode of thinking has strengths and weaknesses. System 1 thinking is a flow state requiring little to no effort or time. In System 1 mode, your most valuable resource is maximized, time. As a result, outsourcing system 2 tasks maximizes your potential.
System 2 is unique in that it requires attention, or time, and is easily disrupted if attention is diverted. It is engaged when System 1 is unable to provide a solution for a given situation. Our information is designed to reduce these occurrences so that you can remain in a flow state and at maximum potential.
The risk when operating in System 1 mode is that there are numerous and well documented cognitive errors that reoccur, as Kahneman outlines in the book. It is a feature of operating in a maximal flow state, not a bug. The value added by independent, objective, and professional analysis operating in System 2 is that it is much easier to identify System 1 risks as an independent and objective observer. To quote Kahneman:
"We are often confident even when we are wrong, and an objective observer is more likely to detect our errors than we are."
With a fundamental transition underway in the markets, following one of the longest bull markets ever, staying in System 1 will become increasingly difficult. It is a time of maximum risk and opportunity for advisors and firms. Top RIAs recognize this phase transition and have placed the acquisition of skill and capacity at the top of their priority list.
Outsourcing high-quality System 2 resources enables you to retain maximum cost optionality while remaining in a state of maximum productivity. Filtering the noise has never been more important for retaining and growing your customer base.
Become a stoxdox – Enterprise OIO member and filter the noise.